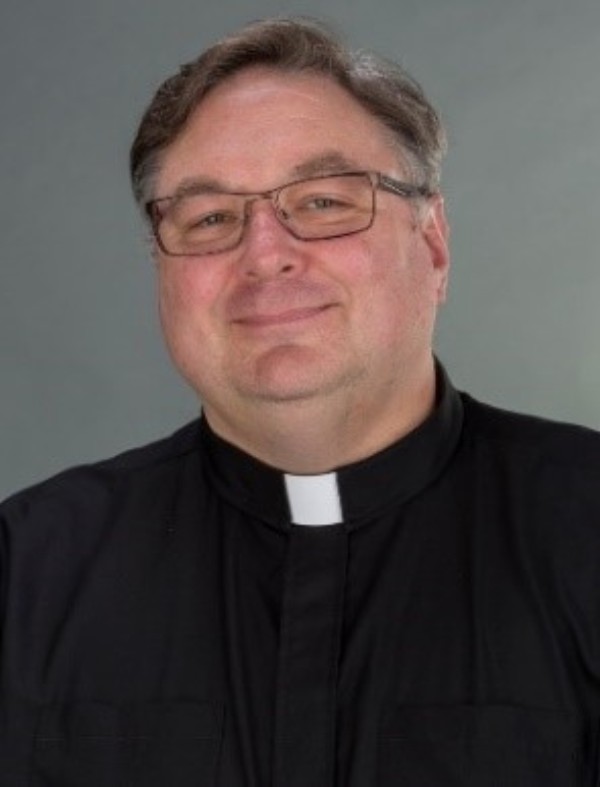 A reflection by Vicar Mark Fischer, Interim Pastor
"After eight days had passed, it was time to circumcise the child; and
he was called Jesus, the name given by the angel before he was conceived
in the womb." Luke 2:22
"It was time…"
St. Luke uses this expression often in his witness to the good news of
Jesus Christ, Son of God, Messiah, the hope of our salvation.
The passing of the old year into the new year is marked by an old man
who sees the sand in his hourglass going faster to his end, and the baby
comes bearing the 365 days of new time.
We have 24 hours in a day—8 sleep, 9 work, and the rest is filled with emails, eating,
driving, chores, etc.
Truth be told though, we all have more than enough time for what we need to do; and
let's be honest, we waste a lot of time. Like garbage waste, it is gone forever.
What we forget is time is a gift because it is all God's time from the time of creation—
sun rise, moon rise.
Time plays a role in the whole of the Christmas story—God said, "It is time…"
Time to become pregnant, time to visit Elizabeth, time to make a decision, time to travel
to Bethlehem, time to deliver, and now time to give this child its name.
Eight days after a birth it was time to give the child its name. The family comes to the
temple, meets with the priest and states the child's name.
Joseph and Mary placed God's plan for salvation above their own plans for becoming
married and having a family. Joseph accepted a pregnant fiancée and because he did, a great
reward came his way. And he accepted the name the angel Gabriel told him belonged to his new
born babe—Jesus.
Of the millions who have spoken the son's name, it was Joseph who spoke it first. A
small town, blue collar wood worker said it first. He cradled the wrinkled faced prince of
heaven and looking into his face beaming with the glory of God, the Father, Joseph said,
"Jesus…. he will be called Jesus."
And so, the time of Jesus' life began.
We are told in scripture: the boy grew under his earthly parents care and love; he grew in
wisdom of the Word of God; he grew strong in faith and understanding.
And at the same time stunned his mother and father as well as the temple priests, his
family and the community around him with what he knew and how he spoke.
And then God said, "It is time…"
> It is time for Jesus to go off and meet his cousin at the Jordan and be baptized.
> It is time for Jesus to call his own group of followers.
> It is time for Jesus to preach the good news of God's mercy.
> It is time for Jesus to heal with a touch.
> It is time for Jesus to gather the outcasts with a word.
> It is time for Jesus to enter Jerusalem triumphantly.
> It is time for Jesus to cleanse the temple.
> It is time for Jesus to anger the Pharisees.
> It is time for Jesus to be betrayed by one of his own.
> It is time for Jesus to be arrested.
> It is time for Jesus to be beaten within an inch of his own life.
> It is time for Pilate to hand him over to die.
> It is time for Jesus to be crucified.
> It is time for God's plan for our salvation to be finalized.
"It is time…"
God uses time for our benefit as Jesus lives a short life of 30 years. God gives us time to
use to glorify, praise, and honor what God has done for us.
As we look at our planners this 2019, let us set aside some of God's time to give back to
Him who used time to bring us the gifts of salvation—forgiveness of sin, redemption,
reconciliation, hope, joy, peace, and love.
Let us use some of our time to give, to serve, to witness in
word and deed the love of God in Christ Jesus, Son of God,
Savior, Messiah. After all, it's only sand in an hourglass, right?
God bless and Happy New Year,