LCCM Food Bank
Please note that the Friday lunches continue from 11:30 to 12:30 at ELCO LCCM.
---
Habitat for Humanity Volunteer Opportunity
Habitat for Humanity
The Habitat for Humanity project at 424-428 Cumberland Street, Lebanon is complete. The unit at 426 was dedicated in April and the new owner has taken possession. The 428 unit will be dedicated on June 17, and the 424 unit will be dedicated in July. This ambitious project has turned three burned-out buildings into nice homes for three deserving families. Congratulations to them on achieving their goal of owning their own home.
Now, on to the next project. Habitat will be renovating/rebuilding this house at 1824 West Chestnut Street in Lebanon. It will need a lot of work! As of this writing (May 19, 2022) the plans are still being developed, but demolition work will begin soon.
Habitat accomplishes its mission through support from businesses and organizations and, most important, volunteers. A volunteer schedule for this project is being developed. Habitat volunteers are at all skill levels. For information about volunteering or other ways to support Habitat's mission, contact Lancaster-Lebanon Habitat for Humanity at 717-392-8836 or online at https://lancasterlebanonhabitat.org.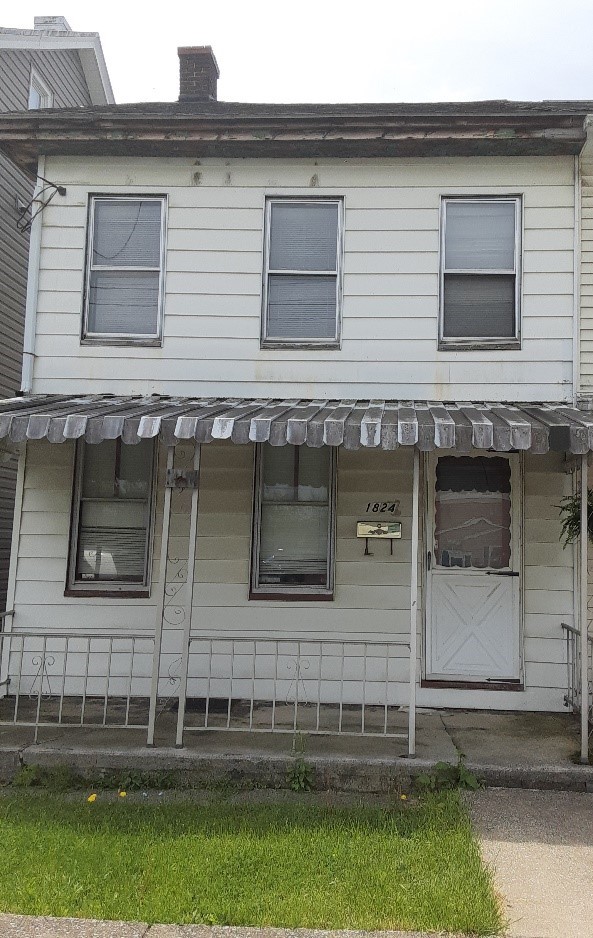 ---

ELCA Hunger Appeal


Millcreek regularly supports the ELCA Hunger Appeal, a nationwide ministry of all member congregations. The appeal works towards not only meeting immediate hunger needs to to eliminate the circumstances that created them.

Read Ellen's story to see the ministry in action:

When Ellen was diagnosed with breast cancer, finances became overwhelming. During the time of her chemotherapy, costs began adding up. Ellen and her husband found themselves living out of their car in Colorado in order to pay for her medical expenses.
Eventually they were able to find a place to stay, but the costs of treatment remained the same. They couldn't do it own their own. With the help of Project Angel Heart, supported in part by your gifts to ELCA World Hunger, Ellen and her husband were able to get back on their feet.
Project Angel Heart provided Ellen and her husband home-cooked meals and checked in to make sure she was receiving the nutrition needed while going through her treatments. Ellen says the volunteers are angels, "Come hell or high water, they come. Without these nutritious meals, I would have never made it."
With hard work, the help of volunteers and meals, Ellen and her husband were able to get back on their feet and find a comfortable and affordable apartment which in turn allowed them to the opportunity to slowly transition off of the meals that were being provided.
"I can't express how grateful I am. No words can express it. Thank you for saving my life," says Ellen.
Through support received, ELCA World Hunger is able to give grants to 350 different church's and nonprofit organizations in the United States that provides the opportunity to help others like Ellen.


---

Lebanon County Christian Ministries

Millcreek is a member congregation of Lebanon County Christian Ministries. Our members donate food and clothing year round for their food bank and clothing bank.
LCCM originated from a small food bank created by local churches in the mid to late 1970s. Many families and individuals were affected by the closings of major industries within Lebanon County and the churches felt it was their duty to provide the basic, yet essential, need for food. In 1982, the food bank grew to a point where the churches felt it was time to create a separate entity so that services could be provided more effectively; thus, LCCM was born.
Since that humble beginning more than 27 years ago, LCCM has grown into a multifaceted organization. With Food still being the main focus of the ministry, LCCM has added other services such as Clothing, Utility Assistance, and Prescription Care. LCCM also provides a Free Noon Meal everyday of the week, serves free meals to children at playgrounds during the summer through the Summer Food Program, and administers The Emergency Food Assistance Program (TEFAP) sponsored by the USDA.
A fifteen member Board of Directors, along with a Council of Delegates (make up of two representatives from each member church) provide the direction needed to ensure financial and spiritual support of the ministry. Led by an Executive Director, a paid staff of seven employees and more than seventy on-site volunteers (along with the hundreds of volunteers that help with the Free Noon Meal and Summer Food Program) carry out the day to day operations, ensuring that Christ's Love and Compassion is shown to all who come to LCCM for help.
Contact Information
250 South 7th Street
Lebanon, PA 17042
Phone: 717-272-4400
Fax: 717-274-1361
Website: www.lccm.us
Email: info@lccm.us
Hours of Operation
Monday - Friday 8:30 am - 4:30 pm
---